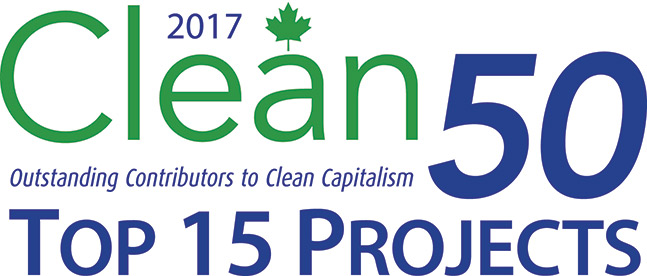 Sept. 20, 2016 – Toronto, Ontario: Kiko Water Systems (KWS), a clean energy company with proprietary HVAC nanotechnology, has been announced as a recipient of Canada's Clean50 Top 15 Projects Award for 2017 from Delta Management Group, for its HVAC Loop Efficiency work at the Four Seasons Hotel, Vancouver. KWS is receiving this award alongside fellow Honourees including Cadillac Fairview, General Motors of Canada, and the City of Vancouver.
The Four Seasons Hotel, Vancouver is always looking to find new and creative ways to reduce costs and lower energy consumption and carbon emissions. As an operating 5 star hotel, any energy reduction measures undertaken would have to achieve significant results while keeping costs and guest disruptions to a minimum. Previous sustainability measures that were presented to the Hotel required large capital expenditures and long payback periods. Fortunately, they kept looking, and discovered KWS.
KWS's revolutionary nanotechnology improves the efficiency at which boilers and chillers operate, by lowering the specific heat capacity and surface tension of the water. Readily installed without disruption, the project resulted in a number of remarkable results in the first 27 months of operation: 19% Overall HVAC Energy Savings, 6,090,943 Lbs. of Steam Saved, 622,193 kWh of electricity saved and 376 Tons of GHG's saved. And the Hotel saved $157,000 without any upfront costs. Other benefits are that the system response time is significantly improved, allowing the HVAC to respond to guest demands much more rapidly, and the demands on the equipment significantly less, reducing wear, maintenance and extending lifespan. Needless to say, Four Seasons is now deploying the technology elsewhere in the chain.
Canada's Clean50 Top Project Awards (Clean50) are announced annually by Delta Management Group and the Clean50 organization to recognize those 15 sustainability oriented projects which have done the most to advance the cause of sustainability and clean capitalism in Canada over the past 2 years.
"Delta's criteria in determining Honourees is to carefully consider actual measurable accomplishments, demonstrated innovation, collaboration with other organizations, and the power of the project contribution to inspire other Canadians to take similar action. The HVAC Efficiency Improvements project was chosen after rigourous screening and research by Delta Management, with advice from internal researchers and external advisors, and was among the Top 15 Projects selected from a large initial pool of well qualified nominees," announced Gavin Pitchford, CEO, Delta Management Group.
—————————————————————————————————————
About Kiko Water Systems Ltd.:
Kiko Water Systems (KWS) has a proprietary green nanotechnology, which is installed in HVAC water loops. KWS's technology weakens hydrogen bonding and lowers the specific heat capacity and surface tension of HVAC water thereby improving system performance and reducing energy consumption by 10-30% per year without any capital costs or project management requirements. KWS's technology is successfully being used in hundreds of systems across North America including Four Seasons Hotels, Triovest and CIM Group. For more information please visit: www.kikowatersystems.com
About Delta Management Group / Canada's Clean50:
Leading sustainability and clean tech search firm Delta Management Group in 2011 founded, and remains the steward of the Canada's Clean50 awards, created to annually identify, recognize and connect 50 sustainability leaders from every sector of Canadian endeavor, in order to facilitate understanding, collaboration and innovation in the fight to keep climate change impacts below 1.5 degrees. Ancillary awards also recognize 10 Emerging Leaders and the Top 15 Sustainability Projects of the year.
Media Contact: Gavin Pitchford 416-925-2005 x 2300 / gpitchford@deltamanagement.com
http://www.kikowatersystems.com/wp-content/uploads/2016/09/clean50_2017-TOP15_jpg_lo1.jpg
276
647
Mike
http://www.kikowatersystems.com/wp-content/uploads/2015/02/logo-nw-2-300x871-300x87.png
Mike
2016-09-22 18:18:31
2016-09-27 00:39:37
KIKO WATER SYSTEMS HONOURED AS TOP 15 SUSTAINABILITY PROJECT IN CANADA