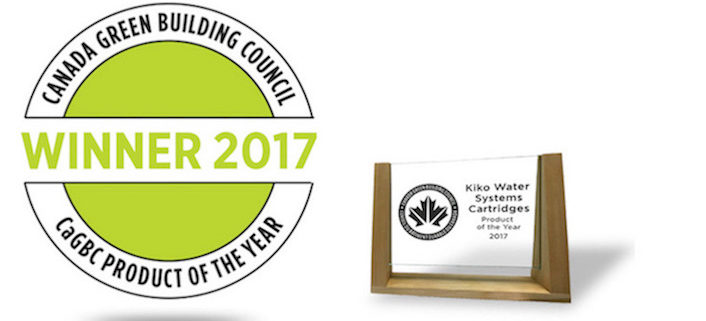 JUNE 1, 2017 – Kiko Water Systems was awarded the Canadian Green Building Council's Product of the Year at the Building Lasting Change 2017 Gala Dinner in Vancouver, B.C.
"I'd like to congratulate Kiko Water Systems on winning the 2017 CaGBC Green Building Product of the Year Award," says Thomas Mueller, President and CEO of the CaGBC. "With their water systems cartridges, Kiko has designed a truly innovative green product that ties into existing building HVAC systems. Creative products like this are an example of business transforming the industry by offering not only an innovative solution for the reduction of energy consumption and carbon emissions but also costs for buildings owners."
"We are honoured that Kiko Water Systems has won the CaGBC 2017 Product of the Year Award," says Jeff Addison, Managing Director, Kiko Water Systems. "Not only did the CaGBC acknowledge the dramatic results that we have been able to achieve in HVAC energy reduction, they also recognized the importance of how we deliver our technology. Since we started, our mission has been to provide clients with an easy, effective way to reduce GHG emissions, extend equipment lifespans, lower operating costs and monitor equipment performance without disruption. By being recognized by the CaGBC, we are able to further our mission and create a more sustainable future. Thank you to CaGBC for this recognition."
Product submissions were assessed based on four key areas: sustainability, transparency and verification, innovation, and application. Kiko's Water System Cartridges was chosen by the jury because of their ability to reduce energy consumption and carbon emissions at a minimal capital expense and disruption to the owner, along with a short payback period. The product's applicability was also noted, with the ability to be implemented in a broad spectrum of building types including new and existing buildings.
As a nanotechnology that is green and not chemical, Kiko Water Systems Cartridges makes all water based HVAC equipment operate more efficiently. Not only are buildings with their technology installed saving an average of over 20 per cent of their HVAC energy consumption, using Kiko Water Systems allows building equipment to not work as hard, which reduces maintenance costs and extends equipment lifespan. Kiko has installed their proprietary technology in thousands of HVAC systems spanning millions of square feet, and boasts a 100 per cent success rate for reducing energy consumption. This has led to drastic GHG emissions reductions in large commercial, residential and hotel towers since 2013.
"UL Environment is pleased to once again sponsor the CaGBC's Green Building Product of the year competition," says Joe Hosey, General Manager at UL Canada. "Through our continued support of this program we are recognizing innovative Canadian-made sustainable products, and supporting access to sustainable product choices."
TO READ THE FULL CaGBC PRESS RELEASE CLICK HERE
http://www.kikowatersystems.com/wp-content/uploads/2017/06/News-Winner-Image.jpg
397
706
Mike
http://www.kikowatersystems.com/wp-content/uploads/2015/02/logo-nw-2-300x871-300x87.png
Mike
2017-06-06 17:50:07
2017-06-07 20:10:08
Kiko Water Systems wins 2017 CaGBC Product of the Year